Workforce Training Solutions
Overview
Accessible. Affordable. Innovative.
Our mission is to provide accessible, affordable, innovative learning opportunities that transform lives and strengthen our regional economy. We are passionate about our mission.
We accomplish our mission by building talent pipelines for the critical jobs in our area. We start by listening to the needs of area employers and meeting individuals where they are in their journey. Our primary goal is to meet the needs of our area employers through the advancement of individual learners.
With the resources of ASUN's Career Pathways and Adult Education Departments, as well as our relationship with state agencies, we are positioned well to provide quality training at an affordable cost. Individuals can meet their career goals through a wide range of accessible and affordable training options.
Our Business is Training,
Let's Do This Together.
Customized.
Your business requirements are varied. Your training solution needs to be responsive. Our team will work with you to develop a customized solution to help your employees apply new skills to your business. Customized solutions can be trained at your location or ours on a schedule that meets the needs of your business.
Our programs are flexible, relevant and value-based to help our business and industry partners improve their competitive advantage by providing employees with enhanced skills to meet the needs of the future.
Additional services include training rooms, assistance in workforce grant application and administration and group facilitation. Our staff is ready to help you achieve your objectives.
Conveyor Tech Program
There is a critical need for employees with the skillset to install, service, and maintain material handling equipment. Those who complete the program will be interviewed for employment. These high demand skills demand higher pay! The program is designed to meet the workforce needs of area employers.
This course provides instruction on the repair, installation, adjustment, or maintenance of industrial production machinery with an emphasis on powered conveying equipment. Students in the Conveyor Tech program receive practical hands-on experience in mechanical, electrical, fluid power, welding and software to enable students to work effectively in virtually any industrial environment. And because safety in an industrial environment is critical, students will learn and practice standard industrial safety practices and methods which support a safe workplace.
Anyone who has a desire to service, install or maintain equipment should enroll in this course. Prior military find great success in these types of roles. The most lucrative careers travel to locations across the US to service and install equipment.
Financial aid scholarships are Available for this program.
The Arkansas Steelmaking Bootcamp is a job skills initiative designed to prepare people for the urgent labor demand in the steel manufacturing industry in Mississippi County. The Bootcamp is comprised of 80 hours of workforce education and training that provides participants with entry-level knowledge for entering a career in steelmaking.
Employers to benefit from these trained workers would include Big River Steel/U. S. Steel, Nucor-Yamato Steel, Nucor Steel Arkansas, Hybar Steel, Tenaris, Majestic Steel USA, Lexicon, Atlas Tube, Arkansas Steel Processing, Ratner Steel, SMS Milcraft, and Primetals, among others.
Tentatively, the 80 hour Bootcamp will be offered over a two-week period (Monday-Friday) with open entry, meaning that participants will not have to wait until the next cycle begins to start training. The Bootcamp will accommodate up to 25 participants per cycle. ANC's partner colleges, Black River Technical College, East Arkansas Community College, Arkansas State University - Newport, and Arkansas State University - MidSouth, will offer another 22 cohorts across Northeast Arkansas.
Completer Credentials:
Each Arkansas Steelmaking Bootcamp completer will receive an OSHA-10 General Industry certification as well as an American Heart Association First Aid/CPR certification. Each participant will also receive a Certificate of Completion for the Arkansas Steelmaking Bootcamp.
Apply:
Application to be considered for the Arkansas Steelmaking Bootcamp for the Arkansas State University Newport - Jonesboro campus location.
More Information:
For more information regarding the Arkansas Steelmaking Bootcamp, please email us!
• w
Bootcamp Training Topics:
Team Building - 4 hours
First Aid/CPR - 6 hours
Radio Protocol - 2 hours
Steelmaking Processes - 4 hours
Preventative Maintenance - 4 hours
Math for Manufacturing - 4 hours
OSHA 10 - 10 hours
Quality Basics for Operators - 4 hours
Mechanical Measurements - 2 hours
Proper Use of Tools - 3 hours
Anti-Harassment - 1 hour
Technical Math - 4 hours
Personal Financial Planning - 2 hours
Steel Mill Economics - 4 hours
Forklift Safety - 4 hours
Crane Safety - 4 hours
Hydraulics/Pneumatics - 8 hours
Basic Electrical Applications - 6 hours
Fundamentals of Blueprint Reading - 4 hours
Total Hours - 80 hours
Online Manufacturing Courses
Online Manufacturing Courses
Online Manufacturing Courses
ASUN has partnered with Amatrol, an industry leader in delivering quality online learning content for the manufacturing industry. Amatrol's eLearning solution is the most engaging eLearning available. ELearning provides access to an extensive library of over 287 classes, over 1100 modules and over 3300 hours of customizable, highly interactive training. Amatrol's eLearning program creates easy access to educational opportunities for technical skill development previously restricted to the classroom. The material is self-paced, making it ideal for individual use.
These courses fall into categories such as automation, electrical, fluid power, green energy, industry fundamentals, lean manufacturing, machining, manufacturing processes, materials, measurement & gauging, mechanical, prints & drawings, structural engineering, surveying, thermal & process control, quality, safety, workplace effectiveness, CNC machining operation and programming, and many others.
Online Fundamental and Career Development Training
Online Career Development Training
Career Training Programs from ASUN
Professional Training Programs
In partnership with Ed2Go, we offer online open enrollment programs designed to provide the skills necessary to acquire professional level positions for many in-demand occupations. Our programs are designed by a team of professionals from each respective field, providing you with effective web-based learning programs. Instructors/mentors are actively involved in your online learning experience, responding to any questions or concerns, as well as encouraging and motivating you to succeed.
Online Fundamentals Courses
Online Fundamentals Courses
In conjunction with Ed2Go, we offer a wide range of highly interactive skill-building courses that you can take entirely over the Internet. All of our courses are led by expert instructors, many of whom are nationally known authors. Our online courses are affordable, fun, fast, convenient, and geared just for you.
Browse our online fundamentals courses.
Apprenticeships Programs: Earn & Learn
Apprenticeship programs train skilled workers with a combination of technical classroom instruction and on-the-job experience. This "Grow your Own" design allows for faster skills attainment which helps to fill the skills gap currently found in Northeast Arkansas.
Apprentices are full-time employees attending class part time. All apprentices are assigned an on-the-job mentor to aid them in applying learned knowledge and skills to their daily tasks.
Apprenticeship Benefits for Employers
Low-cost program, supported with Federal and State Funding.
No cost to start, ASUN facilitates program creation.
Supplements existing employer strategies for hiring skilled employees.
Close employers' critical skills gap.
"Grow your own" talent to teach the company "way".
Employer ROI is $1.47 for every $1 invested.
Create pathways for a more diverse workforce.
Increase loyalty and reduce turnover.
Apprenticeship Benefits for Students
Earn while you learn – start receiving a paycheck and benefits at the start of your training program.
No cost education and skills training.
Apprenticeships develop lifelong skills and support lifelong earnings.
Receive a college education and industry credentials.
Complete with no college debt.

Possible Apprenticeship Programs

CNC Machining
CAD/Mechanical Drafter
Diesel Mechanic
Industrial Maintenance Mechanic
IT Generalist

Human Resource Specialist

HVACR
I am an employer; how do I get started?
Contact with your specific needs. We will work with you to develop a program customized to your specific needs. ASUN will then work with the Department of Labor and Office of Skills Development to establish and manage your program.
Resources
Registered Apprenticeship Programs
Industrial Maintenance Technician
Program Information
ASUN's Industrial Maintenance Technician Apprenticeship Program provides a hands-on educational experience by combining classroom instruction and on-the-job training. Apprentices are provided with the knowledge, skills, and ability to perform preventative maintenance, troubleshooting, and repair to industrial equipment. Apprentices will develop knowledge and application to install and repair mechanical, electrical, electronic, fluid power, PLC, and automated processes. Each apprentice will receive a combination of interactive online training, hands-on technical lab instruction, and on the job training.
Prerequisites
GED or high school diploma
Students must be 18 years of age
Employment with a participating company
Program Duration
The Industrial Maintenance is approximately 3 years. The program requires both classroom and on-the-job learning (OJL). A total of 656 hours of classroom training is provided over a 2.5-year period. This classroom training is delivered in a hybrid format with half of the classroom hours completed online. Classroom training is supplemented with OJL required to attain the required learning objectives. All competencies are expected to be completed within six months of the completion of the classroom training. Some apprentices may complete sooner, or it may take some apprentices longer depending on their OJL and availability to attend training.
Program Completion
This program culminates in a Technical Certificate in Advanced Manufacturing – Pathway to Industrial Maintenance from Arkansas State University Newport. In addition, apprentices will also receive a Certificate of Completion from the US Department of Labor signifying apprenticeship completion.
Download the Industrial Maintenance Technician Apprenticeship flyer.
Courses offered by ASUN Workforce Training Solutions are often non-credit and do not award academic or degree credit. This means they are not eligible for federal financial aid programs (Pell Grants, FSEOG, Federal Subsidized or Unsubsidized Loans, Perkins Loans, PLUS Loans, etc.). However, there are many funding options that may assist you in reaching your training goals.
ARKANSAS CAREER PATHWAYS
Arkansas Career Pathways Initiative is a partnership between community colleges, workforce development agencies, employers and social service providers. The Career Pathways Initiative (CPI) provides low-income individuals with the higher education skills and credentials they need to gain immediate entry into targeted occupations--ultimately leading these individuals to economic self-sufficiency.
The Arkansas Career Pathways Initiative was implemented in 2005 by the Arkansas Division of Higher Education (ADHE), and is administered in collaboration with the Arkansas Division of of Workforce Services (DWS) and Arkansas Community Colleges (ACC). Together with the state Workforce Investment Board (WIB), these agencies plan the Career Pathways Initiative.
Eligibility
Career Pathways Initiative (CPI) serves current and former Transitional Employment Assistance (TEA) recipients, or TANF eligible students, currently or newly enrolled at one of the participating public two-year colleges in Arkansas or in a program administered by participating two-year colleges.
You must be a parent or legal caretaker of a child under the age of 21. This includes custodial and noncustodial parents.
Contact your local college CPI office for eligibility and assistance availability.
Enrollment is dependent on availability of grant funds.
Call (870) 512-7856 or email to set up an orientation. Appointments can be made in Newport, Jonesboro, or Marked Tree.
ARKANSAS WORKFORCE CHALLENGE SCHOLARSHIP
The purpose of the scholarship is for workforce training in high-demand areas of healthcare, information technology, and industry. Classes are not limited to credit-bearing programs. Non-credit, workforce-training classes that fit into these three categories may also qualify.
Important Note: The following information is intended as a general overview of the program for those applying, or who are considering applying, for the scholarship and is not intended to be a comprehensive compilation of program requirements. For complete information, please refer to the program's rules and regulations.
Eligibility
Be an Arkansas resident.
Must be a high school graduate or received high school equivalency.
Student cannot be a current recipient of the Academic Challenge Scholarship.
Deadline for Application
Students must apply at least 30 days prior to enrollment in an eligible program.
Award Amount
Up to $800 per program
Who May Apply:
Every person who has graduated from an Arkansas high school, Arkansas home school or GED program, or anyone who has a high school diploma or GED earned from another state and has lived in Arkansas for the last year. Students must enroll in a high demand area of study in the programs of Information Technology, Healthcare, and Industry. Programs are not restricted for credit bearing classes. Non-credit, workforce-training classes that fit into the three above categories may also qualify.
List of eligible programs for academic 2023-2024 year
Students who successfully complete their program of study will be allowed to reapply for the award in another eligible program.
Students who receive funding from Workforce Challenge and do not successfully complete their program will be allowed to reapply one time.
YOUR EMPLOYER
Many employers provide professional development funding or reimbursement to their employees. Check with your employer to see if these opportunities are available and how to request them. It is also important to be prepared to explain how your training will benefit the organization.
FINANCING AND PAYMENT PLANS
Courses offered in partnership with Ed2Go may offer payment plans. To determine if the program you are interested in offers this option, please see the course website.
ARKANSAS SINGLE PARENT SCHOLARSHIP FUND
Arkansas Single Parent Scholarship Fund helps eligible single parents in Arkansas (except those located in Benton, Carroll, Madison, and Washington Counties, which are served by the Single Parent Scholarship Fund of Northwest Arkansas) to pursue training and education, and, in turn, create a better future for their families.
ASUN Workforce Training Solutions Makes It Easy for Employers.
A grant is a way the government funds your ideas and projects to provide public service and stimulate the economy. ASUN can assist employers with the grant process.
Training & Workforce Development Grants
The State of Arkansas funds your training and workforce development projects through the Office of Skills Development (OSD).
OSD makes strategic investments in the state's workforce through OSD Training Grants. These grants support local businesses and the Arkansas workforce by providing funding and support for professional employee development, reduce gaps in worker skills, and provide customized technical training.
These grants support the Arkansas work-force by assisting businesses to provide cutting-edge, customized employee training.
Workforce Development Grant Categories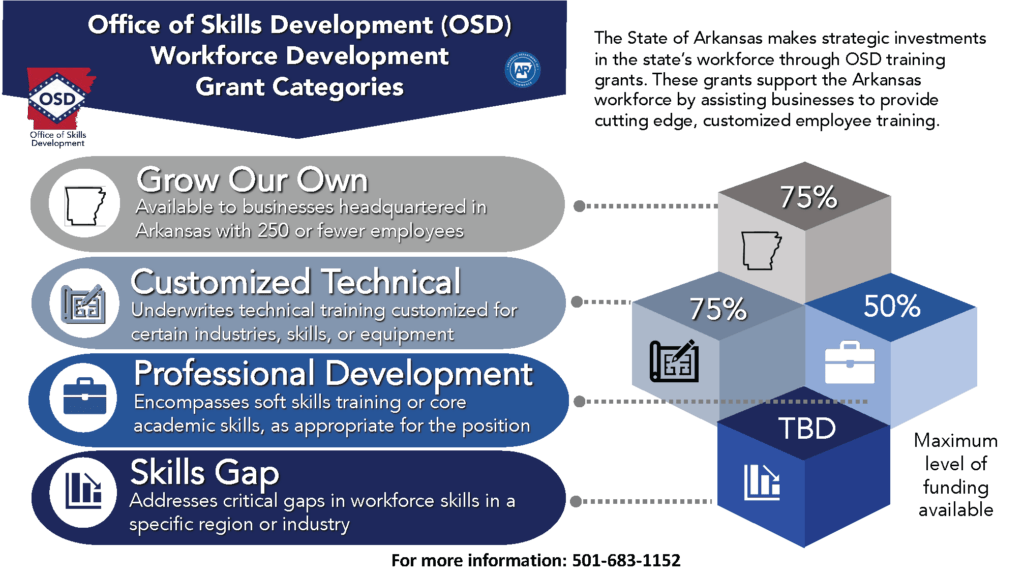 Contact ASUN Workforce Training Solutions to discuss grant opportunities.
• (870) 933-9788